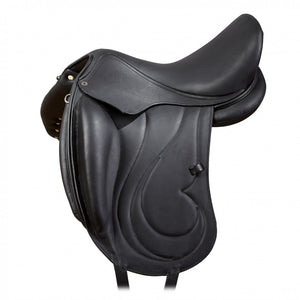 The Cadence is a monoflap dressage saddle with a French deep seat. The Cadence offers a correct leg position, and is very comfortable. Its design provides a closer contact with the horse and makes it ideal for both competition and flat work. The V-shaped grith evenly distributes the weight across the horse's back, to maximize the horse's comfort.
The is made with laminated beech wood and reinforced with steel strips.
5 years limited warranty on the tree. 2 years limited warranty on the leather.
Customizable for both rider and horse.
SPECIFICATIONS
French deep seat
Available from size 16″ to 18.5″
Flaps available in different sizes
Custom made panels
Available in calf or buffalo leather