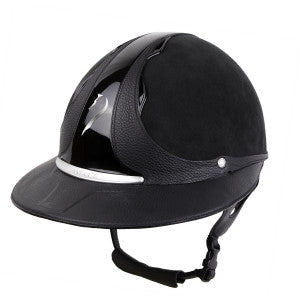 Very light, comfortable and beautiful.
Maximum ventilation keeps air flowing (4 vents in the front).
Inner pads are removable and washable. 
Black Alcantara® shell with leather headpiece and harness.
Eclipse Visor option :
The new Antarès visor Eclipse was designed with a beautiful feminine aesthetic in mind, the Eclipse is trendy, elegant and sophisticated.
The wide Eclipse visor was designed to protect against the sun and harsh weather, without restricting the large field of vision needed in every discipline.
The visor cannot be detached from the helmet.
Classic version: no additional cost
Version with 3 Swarovski crystals: 50 € supplement
Remark, this visor requires a delivery time of 6 to 8 weeks.
Each shell is supplied with a complete set of liners:
* 1 x SET B "Head circumference pad" that adjusts the shell around the head, thickness depending on the requested size (head measurement).  The back part of this pad is removable to give more space if the rider wants to wear it with hairs inside.
* 2 x SET A "Top and front pads" thickness 4 and 8 mm, that adjusts the helmet depth and on the front.
Antares liners offer an optimal adjustment to different shapes of head (round or oval)