Meet the Antarès custom line up...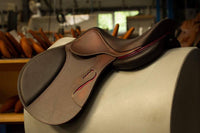 Saddle Fittings
EQ Custom offers complimentary saddle fittings. Please contact your local rep to discuss you and your horses individuals needs.
Contact Us
About Us
At EQ Custom Products we aim to satisfy our customers and clients with the best quality products and service. We thrive on attention to detail and take significant interest in you and your horses individual needs. As equestrian professionals ourselves, we understand the importance of quality products and the difference they make in our horses performance. We look forward to the opportunity to meet you, your horse(s) and sharing our knowledge.
Learn More About Us