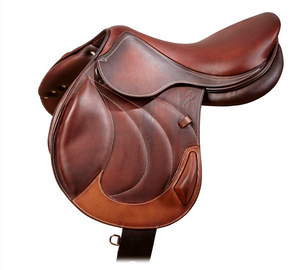 The monoflap saddle is available in all different jumping models (Contact, Connexion, Comfort & Evolution).
This saddle provides even more contact and comfort to the rider's legs. The blocks are designed to provide more control especially during cross country. While de monoflap is very popular among eventers, it is also a great saddle for showjumping.
The tree is made with laminated beech wood and reinforced with steel strips.
5 years limited warranty on the tree. 2 years limited warranty on the leather.
Customizable for both horse and rider
SPECIFICATIONS
Available in different models (Contact, Connexion, Comfort & Evolution)
Available from size 16″ to 18.5″
Flaps available in different sizes
Custom made panels
Available in calf or buffalo leather